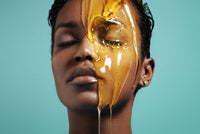 Switch To Double Cleansing Today!
One huge misconception is that makeup wipes remove makeup. Instead, makeup remover wipes don't effectively remove or cleanse makeup from your skin. They basically just smear dirt, bacteria, oil and makeup on your skin causing pore blockage and skin irritation.
Cleansing oils deep cleanse your skin removing impurities, bacteria, makeup and dead skin cells. The oil binds to the dirt and debris on your skin and lifts it away.
Watch the Classic Oil Cleanser in action!
SWITCH TO OIL
Instagram feed
Stay connected and follow us on social media to keep up with the latest in Skincare and big discounts. We love hearing from you, feel free to share your feedback and thoughts. Share your photos on Twitter and Instagram mentioning @Kampa_cosmetics, and your photo could appear in our gallery!